ADVERTISEMENT
One day, we may live in a future where we have robots that can do everything for us. At the moment, though, we're a long way from that future—most tasks still require a human touch, particularly when it comes to sales.
Even so, there's still such a thing as sales automation, where you use digital tools to automatically perform routine sales tasks for you so you can spend your time working on other things. In fact, there are quite a few sales automation tools out there.
In this blog post, we're going to cover seven of the best sales automation tools on the market, including:
Keep reading to learn more!
Top 7 sales automation tools for your business
With all the sales automation software options out there, it can be hard to choose which ones your business will use. That's why we've taken the time to draw up a list of seven tools you can benefit from using.
That's not to say you should use all of the tools on this list, but you could definitely benefit from having some of them. Learn more about each tool below!
1. Nutshell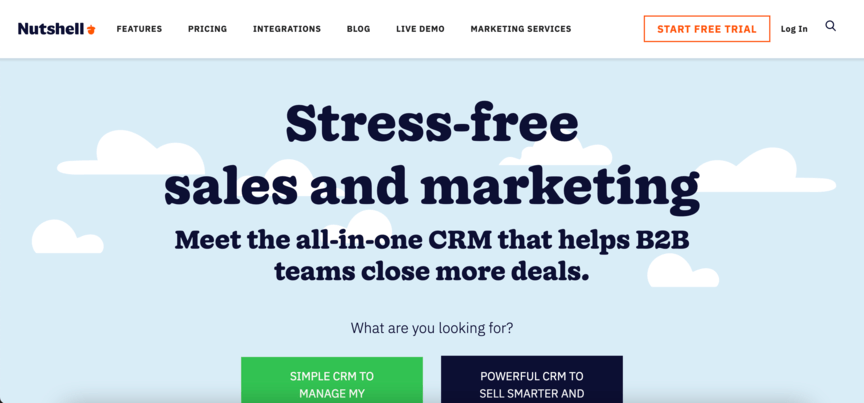 Price: $16+ per month
The first sales automation tool on this list is Nutshell. Nutshell is a customer relationship management (CRM) platform, which is a tool for helping you gather, organize, and analyze customer data to learn more about your audience.
As a CRM, Nutshell has many different features, but one of the biggest ones is sales automation. For one thing, Nutshell can automatically update things like sales data and lead status as leads move through the sales pipeline.
Additionally, Nutshell can help you automate your email marketing campaigns. You can build the emails you want and then have Nutshell automatically send out those emails in response to specific user behaviors, like signing up for your newsletter or abandoning a cart on your site.
2. HubSpot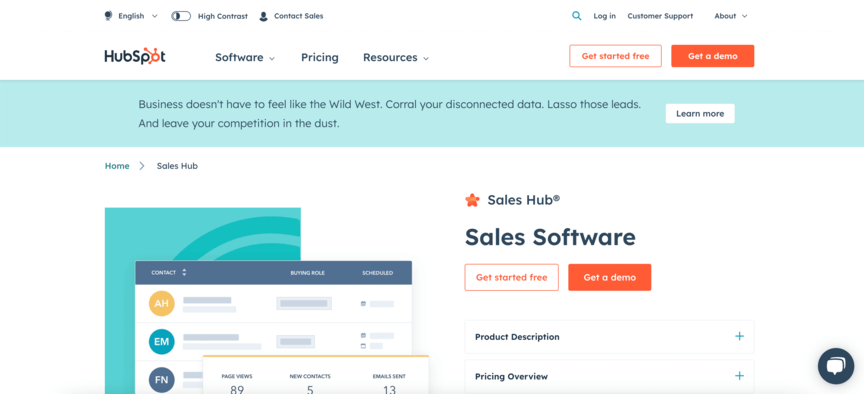 Price: Free, or $45+ per month for an upgraded version
HubSpot is a company that offers a variety of marketing and sales products. One of those products is the HubSpot Sales Hub. Like Nutshell, it's a CRM, and it carries similar features—it can help you track leads through the sales pipeline and analyze customer data.
Also, like Nutshell, HubSpot features email automation tools you can use to manage your campaigns. One of the best things about HubSpot is that it's consistently rated as being very easy to use.
3. Salesforce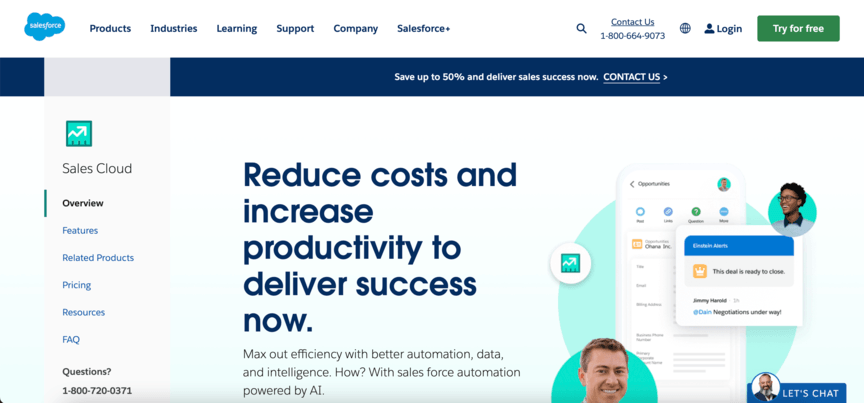 Price: $25+ per month
Salesforce is yet another CRM that comes equipped with sales automation features. Of course, Salesforce offers many different tools—in this case, we're referring to the Salesforce Sales Cloud. While a bit more complex than HubSpot, it offers many of the same basic features.
An interesting aspect of Salesforce is that even for the tasks it can't handle itself, it can still automate the process of assigning those tasks to your team members, provided you tell it how you want it to do so. Salesforce is also a great choice because it can integrate with so many third-party tools.
ADVERTISEMENT
4. Pipedrive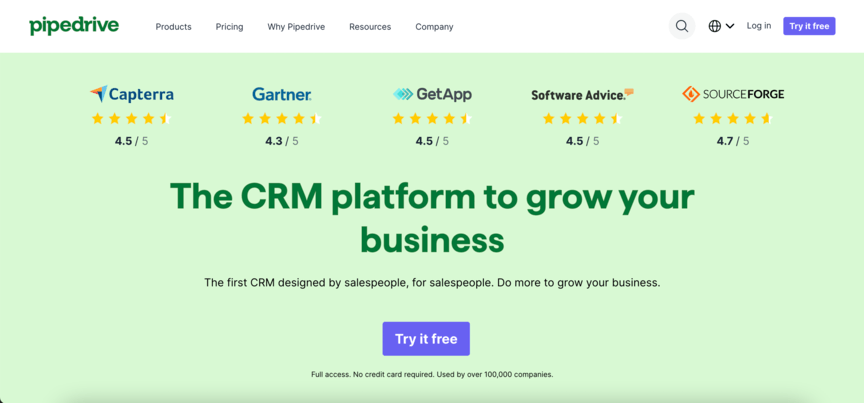 Price: $15+ per month
Another sales automation CRM is Pipedrive, which comes equipped with plenty of automation features. Some of the tasks Pipedrive can handle include:
Sending out emails
Generating automatic sales reports
Sending you reminders about manual tasks
And more!
Pipedrive makes it very easy to customize your sales process, including what you do and don't want automated. Plus, it's designed to foster collaboration among different members of your team.
5. Keap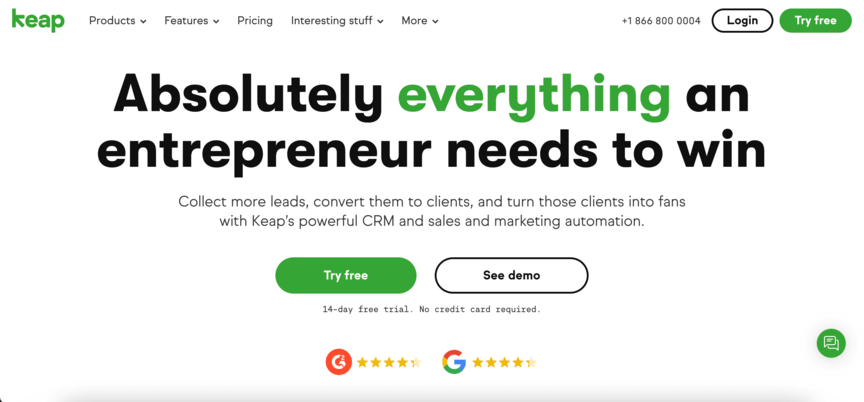 Price: $129+ per month
Keap marks the last CRM on this list, and unsurprisingly, it offers many of the same basic features as the first four options listed here. Some of the things Keap can automate include:
Sending follow-up emails
Importing and categorizing customer data
Generating sales reports
And more!
On top of its sales automation features, Keap—like Salesforce—offers an impressive number of third-party software integration options. Plus, it provides 24/7 customer support.
6. Calendly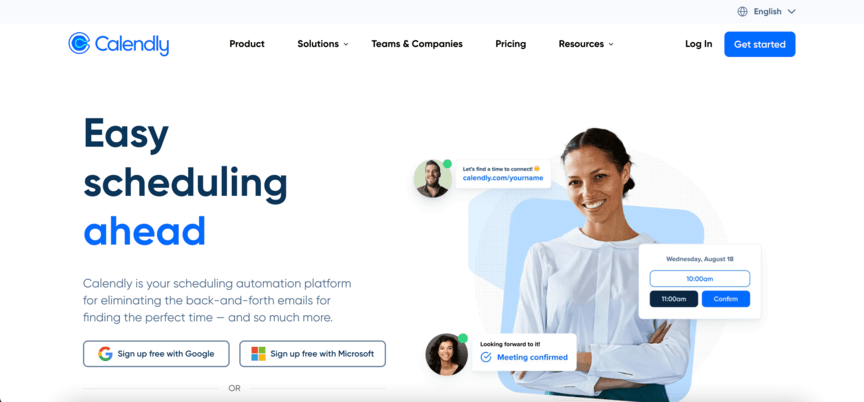 Price: Free, or $8+ per user per month for an upgraded version
Calendly, unlike the previous tools on this list, is not a CRM. Rather, it's a tool that specializes in scheduling phone calls and meetings. Rather than you having to engage in a long back-and-forth with your clients to find times that work for you, you can simply use Calendly.
Calendly will have you and your clients mark your availability for calls and meetings, and then it will automatically match up your schedules to find the best time. It will also automatically send out reminders via email and SMS.
7. Mailchimp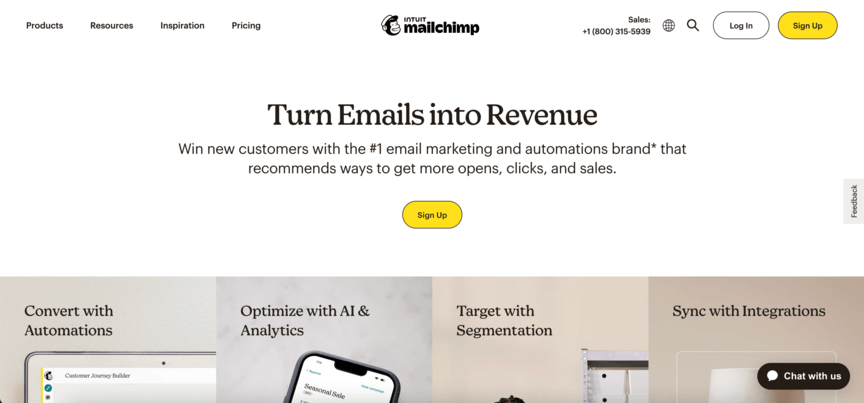 Price: Free, or $13+ per month for an upgraded version
The CRMs on this list come with some form of email automation, but Mailchimp takes it to the next level. That's because Mailchimp isn't a CRM, but rather, it's a tool that specializes in email automation.
You can use Mailchimp to create a wide variety of emails, from welcome emails to cart abandonment emails. And Mailchimp isn't just useful for sending emails—it can also help you create them. It even comes equipped with an AI creative assistant to help you find the best email designs for your business.
Nutshell is the ideal sales automation software for your business
Looking for a good all-around piece of sales automation software for your business? Nutshell is the ideal choice. With Nutshell, you'll get a well-rounded CRM that can handle sales automation and plenty of other useful sales management features, including customer analytics.
On top of that, Nutshell offers a top-of-the-line customer service team that will always go above and beyond to provide you with whatever help you need while using the platform. You won't ever have to feel in the dark about what you're doing.
Of course, we understand that jumping right into a paid plan might not be something you're ready for. And that's fine—in fact, it's why we offer a 14-day free trial. Check it out today to see what Nutshell can do for your business!
BACK TO TOP
ADVERTISEMENT